Gereedschappen
Een dakafdichting met Mastersystems leg je goed en snel met de juiste tools zoals aandrukrollen, EPDM-scharen, kitpistolen en drukvaten.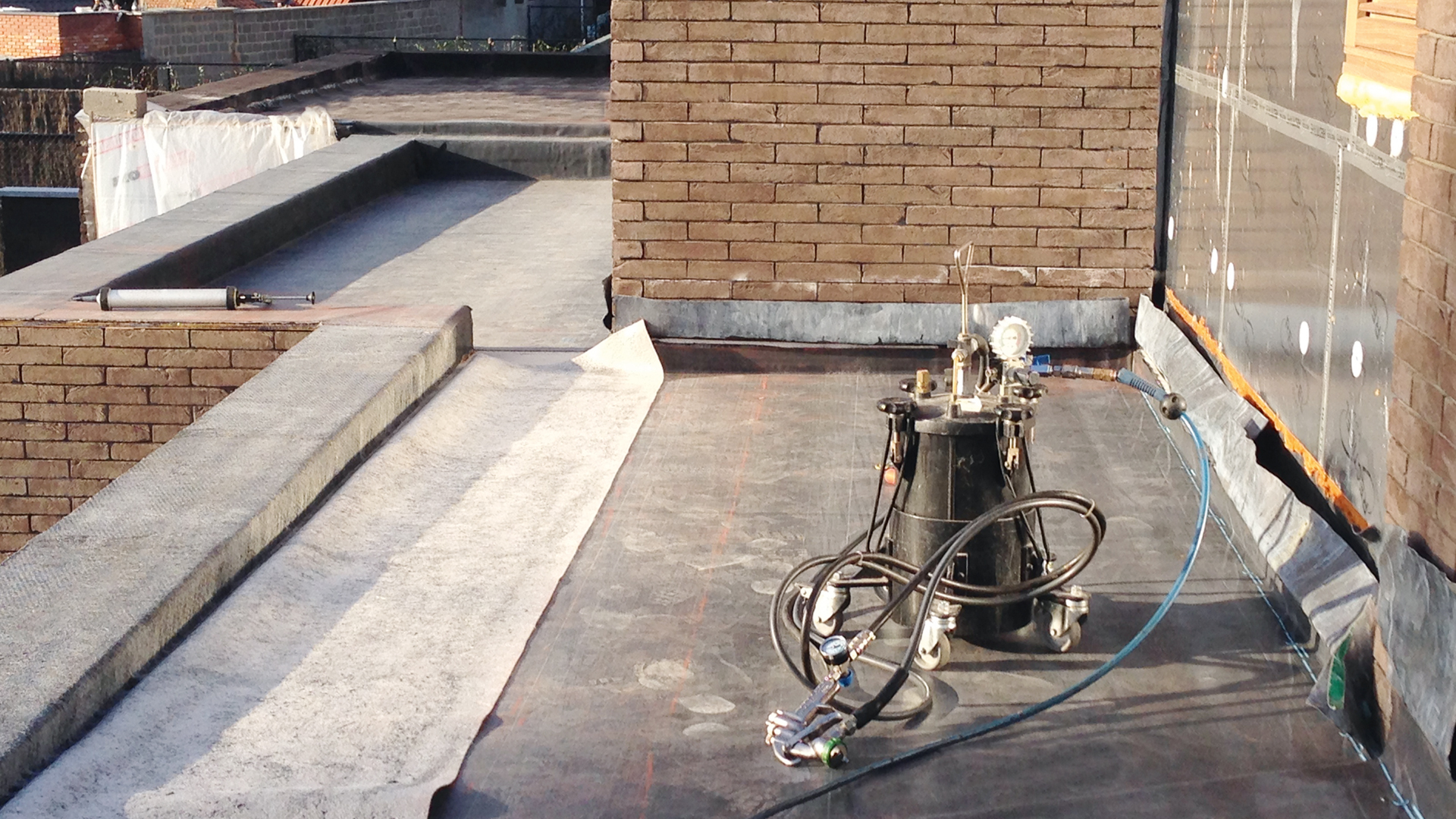 Drukvat
Met een drukvat vernevel je contactlijm op dakmembranen en de te verkleven ondergrond. Het zorgt snel en efficiënt voor een gelijkmatig verspoten lijmlaag.
Met een borstel of lijmrol is het moeilijker de lijm gelijkmatig te verdelen en gebruik je al snel heel veel lijm. Een drukvat verdient zichzelf terug door een hoge verwerkingssnelheid en minder lijmverbruik.
Een drukvat gaat minstens 10 jaar mee en verbruikt (afhankelijk van de ondergrond) 350 g/m² contactlijm. Dat is een stuk zuiniger dan verwerking van contactlijm met rollerframe en hoes: 600 g/m² of met borstel: 900 g/m².
Technische tekeningen en documenten
Gelieve uw mailadres achter te laten. Wij zenden u de download via email.
Mastersystems Contactspray 22,1L
Eerst eens kennis maken met Mastersystems? Gebruik onze Mastersystems Contactspray 22,1L als je het eens wil uittesten en niet meteen wil investeren in een Spray-Fix drukvat voor de PX300 lijm.
Mastersystems contactspray 22,1L is een synthetische verspuitbare contactlijm in een makkelijk draagbaar drukvat voor de verkleving van Mastersystems (pre-tape) EPDM en Mastertopline pre-tape EPDM membranen in het dakvlak en op de opstanden.
Voordelen van de Mastersystems Contactspray 22,1L
Gemakkelijk te gebruiken
Interessant voor kleinere daken (Met 1 vat kan u max. 27m² bedekken)
Interessant voor daken zonder elektriciteitstoegang waar het drukvat niet kan gebruikt worden.
Nieuw met Mastersytems? Ideaal om eens uit te testen
Technische tekeningen en documenten
Gelieve uw mailadres achter te laten. Wij zenden u de download via email.
Ergonomische aandrukrol
Aandrukrol van 45 mm breed met ergonomisch handvat.
Aandrukrol silicone
Silicone aandrukrollen van 50 mm of 100 mm voor het strak verwerken van EPDM-dakfolie.
Aandrukrol 2-in-1
Aandrukrol met silicone roller van 40 mm breed en een messing rol van 5 mm voor detailafwerking.
Nadentester
Nadentester voor een eenvoudige naadcontrole bij EPDM-naadverbindingen.
Kitpistool
Gesloten kitpistool voor het strak aanbrengen van Masterkit en Masterreflect kit.
EPDM-schaar
EPDM-schaar voor het knippen van EPDM. Geschikt voor langdurig en intensief professioneel gebruik.